The recent COVID-19 crisis has highlighted the need for health care workers trained to work with patients and families facing serious illness. Aquifer is developing resources to address that need.
Over 6 million Americans live with a serious illness that could benefit from palliative care, and this number is expected to double over the next 25 years.  However, a 2014 consensus review by Dr. Robert Horowitz from the University of Rochester Medical Center concluded that palliative care education in US health professions schools is widely variable and underdeveloped, largely due to an overstrained curriculum, lack of faculty expertise, and limited funding for development.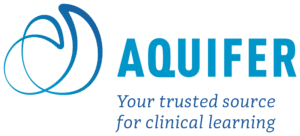 Medical students often learn about palliative care informally from unqualified preceptors, resulting in substantial inconsistencies and inadequacies in both knowledge and skills. The authors of the 2014 study thus recommend integration of palliative care education into existing courses emphasizing basic competencies for all medical students.
With a $396,000, three-year grant from AVDF, Aquifer is developing and delivering palliative care training courses to 90% of US medical schools. Aquifer's track record of producing high-quality, standardized online courses and teaching cases positions them to address this critical need. "We are confident," writes project leader Dr. Mandi Sehgal, "that this three-year project will result in measurable changes in palliative care readiness among physicians."
Aquifer's non-profit mission is to deliver the best health care education via collaborative national development of innovative high-impact virtual teaching and learning. Founded in 2006, Aquifer has more than 15 years of experience creating online teaching and assessment with proven value to educators and students. Aquifer has provided a total of 12 million learning hours to more than 400,000 students at over 90% of US medical schools and a growing number of physician assistant and nurse practitioner schools as well.
The project will result in an online Excellence in Palliative Care Principles and Practice Course that will feature 5 segments on basic principles, and 10 virtual patient cases on palliative care in simulated real-life practice. These virtual patient cases will allow students to apply and test their knowledge as they would in real practice, making decisions and understanding potential patient harm with self-assessment measurement of simulated outcomes that can be evaluated by medical schools.