In the United States, older adults from racial and ethnic minority groups remain less likely than non-Hispanic whites to receive high-quality hospice and palliative care. Mistrust in the health care system and a lack of culturally-competent palliative care services in minority communities may contribute to these disparities. Compelling literature supports the importance of patient-clinician concordance to overcome disparities in healthcare access and quality. However, the hospice and palliative medicine workforce lacks diversity. African American and Hispanic doctors represent less than 5% and 8% of hospice and palliative medicine fellows, respectively. Leading minority-serving U.S. medical schools offer little palliative care training and no specialty palliative care services.
With AVDF funding, the University of Pittsburgh Palliative Research Center is working to meet these challenges through its Expanding Palliative Education Research & Training (ExPERT) Project. The ExPERT Project aims to enhance palliative care training at minority-serving medical schools through faculty development, institutional support, and clinical training.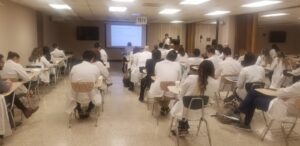 To date, project leaders have carried out train-the-trainer sessions at Morehouse School of Medicine, Howard University, and the University of Puerto Rico. Those who are trained are also given full access to the web-based resources developed by the Center to Advance Palliative Care, another AVDF grant-funded organization.
In addition, residents at these institutions are provided with fast facts and case studies to provide additional training in palliative care. Thus far, more than 400 residents have been trained with these materials.
In addition, the ExPERT team has expanded its outreach to medical trainees from underrepresented backgrounds. This work has led to a new partnership with leaders of the Student National Medical Association, an organization that supports current and future underrepresented minority medical students. Through a new collaboration with them, ExPERT is providing coordinated palliative care-focused talks at four regional conferences by local palliative care leaders.