With support from the Arthur Vining Davis Foundations, the Chesapeake Bay Foundation (CBF) is building engagement programs and diversifying partnerships to restore oysters and trees throughout the Chesapeake Bay watershed. Through strategic public communications, outreach events, and in-the-field volunteer activities, CBF has taught hundreds of thousands of residents about the health of the Chesapeake Bay and directly engaged thousands in hands-on activities that restore and protect the Bay and its rivers and streams.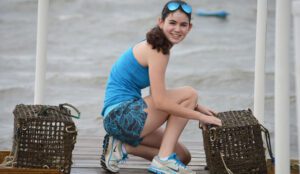 One noteworthy example is CBF's effectiveness in recruiting and training volunteers to become "oyster gardeners." Oysters contribute to the health of the Chesapeake Bay by serving as natural filters and providing essential habitat for fish and other creatures. But the current oyster population is a fraction of its original level. In an effort to restore this population, CBF recruits and trains volunteers to grow juvenile oysters to adulthood, after which they are planted on sanctuary reefs. In 2019, CBF's network of volunteer oyster gardeners included more than 600 individuals in Maryland and over 1,600 in Virginia. Collectively these individuals logged 38,481 hours in the service of the project, leading to the growth and planting of over 996,000 adult oysters throughout the Chesapeake's waters in Maryland and Virginia.
CBF's effectiveness in recruiting volunteers also contributed to success in their tree-planting initiative. Despite adverse weather conditions in early 2019, CBF and the Keystone 10 Million Trees Partnership engaged 2,674 volunteers to plant 81,433 trees alongside streams, streets, and lakes, and on other priority landscapes.
In addition, CBF has continued to maintain a strong media presence and draw increased attention to their work. In 2019 they appeared in the media an average of 8.6 times per day, and their website attracted 710,295 visitors and 1.86 million unique pageviews. And by the end of 2019, CBF boasted 105,000 social media followers and 300,000 e-subscribers.
For more information on the Chesapeake Bay Foundation and its work, please visit their website here.
Back to all Stories