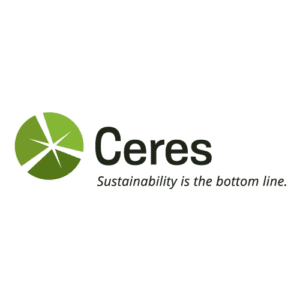 While there is increasing awareness and concern about climate change, many individuals and corporations are seeking to learn how they can directly address this pressing global challenge. In response to this need a small number of organizations have emerged which provide clear and actionable guidance on how individuals and businesses can modify behaviors and practices in ways that will turn the tide of global warming.
Ceres, a nonprofit organization based in Boston and San Francisco, works with the most influential market leaders to solve some of the world's most pressing sustainability challenges. With support from a two-year, $500,000 grant from AVDF, Ceres is initiating two streams of work to bring about significant positive changes in climate related practices in business.
First, the grant will enable Ceres to offer its services to more companies, and to companies of all sizes. Until now, much of Ceres' work has been with large corporations, and has taken the form of direct, intensive assessments with personalized guidance for improvement. Often this work has been achieved through its Company Network initiative, which now includes more than 50 firms, the majority of which are Fortune 500 companies.
The AVDF grant will allow Ceres to scale this work by providing a similar kind of service to a much broader base—not just very large and established corporations, but small and medium sized businesses and private or pre-IPO companies. Ceres will do this by creating and launching a free, online tool that will enable companies of all kinds to assess their sustainability performance, in order to better understand how their current practices fare with respect to climate, deforestation, water, and waste. The tool will also generate specific recommendations based on these assessments, and it will give users access to a curated list of key resources, including leading practices that are relevant to the specific sectors in which they work. This innovation should increase the impact of Ceres' Company Network, by enabling a much larger number of companies to understand how they are doing with respect to sustainability and how, specifically, they can improve.
The grant will also support the continuation and expansion of Ceres' Corporate Electric Vehicle Alliance initiative, or CEVA. The mission of the CEVA initiative is to increase major corporations' use of electric vehicles in their fleets, and to help these corporations take full advantage of all the benefits of doing so—benefits such as cost savings, emissions reductions, and reputational boosts. CEVA accomplishes this by helping its member companies understand and act on opportunities to electrify their light-, medium-, and heavy-duty transportation fleets, and to identify and overcome challenges to these activities as they arise. It also helps its members to work together collectively to influence demand, thereby further changing their respective markets.
Ceres launched CEVA in January 2020, and since that time it has recruited 26 member corporations, including Amazon, AT&T, Best Buy, DHL, Lyft, Uber, and Siemens. With support from the AVDF grant, CEVA will expand its membership and continue to work with its members to accelerate large-scale transitions to vehicle electrification, thereby significantly reducing greenhouse gas emissions.
Together, the two streams of work promise to support businesses as they make the transition to climate friendly practices.