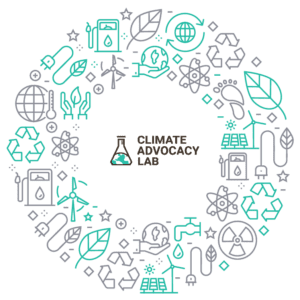 Numerous surveys show that medical professionals are some of the most trusted messengers among the general public on a range of issues related to public health. Additional research shows that messages that emphasize the ways in which climate change impacts health perform better than messages that highlight other effects of climate change. Further, in a recent 2021 study, a number of health professionals said that they felt a responsibility to talk with their patients and the public about climate and health, while also expressing a need for training on effective communication strategies.
In light of these opportunities and needs, the Climate Advocacy Lab is working to equip 50 health care leaders with the skills to communicate more effectively to their colleagues, their patients, and the general public about the impacts of climate change on health. With grant support from AVDF, Climate Advocacy Lab will run two 6-month training programs, provide ongoing support to the participating trainees, and disseminate guidance on effective communication across a wide network of interested organizations.
Participants in the program will be leaders within organizations that are working at the intersection of climate and health, and will include doctors, nurses, physicians' assistants, medical students, and non-practitioners specializing in public health. The program will teach participants the most effective strategies for communicating with patients, but it will also train them to use their roles as leaders in health care groups to educate and motivate others to communicate about climate and health. In addition to providing this training, the project personnel will help trainees conduct research to learn more about how to communicate with their particular constituencies. Once these initiatives have concluded, the Climate Advocacy Lab will disseminate their training materials and results among their broad network of like-minded organizations, so as to benefit many more professionals who are working at the intersection of climate and health.
The Climate Advocacy Lab aims for this combination of training, testing and dissemination to yield several positive outcomes. First, they anticipate that participants will have increased capacity and confidence to speak about climate and health in their own networks. They also expect to see increased engagement among the members of the organizations represented by the trainees. Finally, they hope that the medical field as a whole will benefit from a greater understanding of effective communications strategies and the growing body of knowledge about climate and health messaging.